ARISE
Adaptive Recreation Inspiring Vitality and Empowerment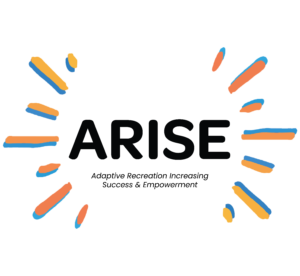 The ARISE program from STRIVE4You was created to provide fun, innovative, and informative opportunities for educating our community and encouraging people with low vision to engage in active lifestyles. These opportunities directly address the challenges of including people with low vision in recreational activities, competitive sports, and physical education classes alongside their peers.
Our team at STRIVE4You believes that bodies in motion stay in motion. Too often people with low vision are excluded from participation in their favorite activities; we seek to mitigate this by constructing a more inclusive, level playing field for everyone through education and adaptation.
Adaptive sports are competitive or recreational sports for people with disabilities. People with disabilities may play different versions of traditional sports with modifications. Our adapted sports focus on the modifications necessary for people with low vision participation. This approach places people with visual challenges on an even platform with their able-bodied peers. Although various organizations provide adaptive sports, most are limited in scope.
ARISE is unique in providing multiple onsite options at the requested location. We emphasize educating professionals on adapting physical recreation to meet the needs of individuals with visual impairments in their communities to encourage a more inclusive society for all.
Services Offered Within the ARISE Program:
These 90-minute webinars explore the recreational and competitive options available to people with low vision, while teaching techniques for adapting everyday activities. During these informative and interactive sessions, our ARISE team shares resources, equipment needs, and tips and tricks for including those with low vision in existing programs. Both people with low vision and professionals within the recreational sports fields can gain valuable information from our webinars. Additionally, participation is eligible for ACVREP continuing education (CE) hours.
Many professionals report they lack the knowledge, resources, or finances to provide adaptive equipment required to include a person with low vision in their mainstream programs. STRIVE4You has developed the ARISE Access to Inclusion Plan to address this need. Our AAIP comprehensive curriculum explores the barriers a person with low vision may face when attempting to live an active lifestyle, and steps professionals in the recreational and sports fields can take to create a more inclusive environment.
Our hands-on Physical Education With a Twist workshop provides students the opportunity to expand their horizons by participating in an adapted sport through the lens of a person with low vision. This unique teaching approach exposes students to engaging with people with low vision by allowing them to experience playing the sports they know and love with an adapted twist. Whether or not there is a student with low vision present within the school, this method increases knowledge regarding physical fitness, and disability awareness, including proper interaction with others, anti-bullying, and fosters a positive outlook toward people from diverse backgrounds. Some STRIVE4You team members even utilize service animals during their presentations, adding to the excitement of the learning experience. These workshops are designed for all K-12 students and allow educators to properly incorporate students with low vision into their curriculum.
STRIVE4You assists parents, physical education teachers, community-based program directors, coaches, and other individuals and organizations in implementing adaptive recreational and sports activities. We provide consultation on the latest practices, different types of adaptations to popular sports and recreational activities, and cost-effective resources to meet the individual or organization's needs. Our team has over 12 years of experience and is highly knowledgeable of a wide variety of techniques to adapt to any activity. One of our adaptive sports consultants meets with you to understand your individualized situation and ensure your activities are comprehensively prepared for people with low vision. Together we help you create a plan of action, encompassing methods, equipment, and supplies needed to promote your program with a focus on inclusivity and meet national standards while adhering to ADA compliance.
SEED
Safety Education and Empowering Defense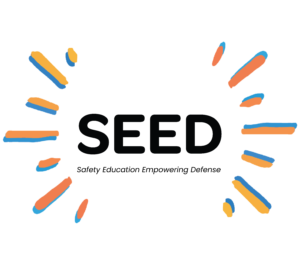 STRIVE4You's SEED program was developed to endorse and provide safety education and adapted self-defense tactics within the community of individuals with low vision.
SEED emphasizes the importance of advancing a culture of safety and security for all. Our self-defense program implements a holistic circle of services training body, mind, and spirit to prepare for and act on threats to personal safety.
The SEED safety education curriculum creates favorable conditions for awareness of the unique challenges individuals with low vision face. SEED's goal is to teach a principled approach to recognize, analyzing, and responding to potentially threatening situations through this twofold method.
SEED adheres to the STRIVE4You peer-to-peer approach, thereby placing great value in the development of our curriculum principally by and for those it aims to serve. This distinguishes SEED from all comparable initiatives nationwide. Many self-defense program offerings fail to confront the issues of personal safety and wellbeing beyond the physical techniques used to defend oneself.
Our safety education courses acknowledge this need and apply the experiences of people with low vision to bridge the gap in education. Topics range from setting boundaries for physical touch and consent to tactics for recognizing and avoiding
other potentially life-threatening situations. Trainings include information about maintaining personal safety in and outside the home, mental health advocacy, contacting authorities to report an incident, and assessing personal wellbeing and comfort after a traumatic situation.
These topics are not often adapted to fit the needs of individuals with low vision, creating a significant gap in their understanding and executory skill level of personal safety.
Services Offered Within the SEED Program:
Through the STRIVE4You STRIVE2Learn Academy, SEED is proud to offer our online basic safety education course. This is a self-paced opportunity for individuals to independently learn our SEED Safety Education 101 Curriculum, which explores several topics related to safety and self-advocacy, including:

-Personal safety perceptions
-Types of aggression and motivations behind them
-Physiological and psychological reactions to stressful situations
-Situational awareness and the three phases of conflict resolution
-Self-advocacy skills
-Techniques for basic home and personal safety
-Proper procedures to report abuse and violent crimes
-Mental health wellness and security assessment
We've developed a hands-on self-defense program for individuals with low vision developed by individuals with low vision. Read more here by clicking on the hyperlink above.
BE REAL
Believing in Everyone
Reveals Extraordinary Abilities and Leaders
A disability should never define who you are, nor should it dictate how people approach and interact with you. However, each and every day, hundreds of thousands of people feel they are treated differently and become isolated and frustrated because of the lack of equality and inclusion throughout society.
Negative stereotypes, unequal opportunities, and a simple lack of disability awareness in our communities are major barriers for those of us who strive for acceptance and equal opportunities for all. We believe with a fundamental certainty that believing in everyone reveals extraordinary abilities and leaders, hence the name of our BE REAL program. We strive every day to achieve a more inclusive and productive society.
Services Offered Within the BE REAL Program:
With our unique workshops taught by people with low vision, your team can experience a true diversity and sensitivity training like no other! Our seminars are either half- or full-day and extensively cover the ADA law, acceptable behaviors when working with a person with low vision, and effective communication. These trainings are led by two to four instructors. They are interactive and discussion-based, and perfect for all professions where a person with a physical, visual, cognitive, or a hidden challenge may be a customer, client, or employee. Ensuring your team is properly trained is not only the legal thing to do, but it is also the moral thing to do. Only then can we truly promote a diverse and inclusive society for all!
If you're seeking an exciting way to build communication and collaboration skills within your organization/company this is the service for you. STRIVE4You offers several different types of unique activities that facilitate opportunities for your staff to enhance communal support, foster encouragement to boost team productivity, increase self-confidence, improve problem-solving skills, and promote individual and group growth with fun and memorable experiences.
Coming Soon!
Feeling alone is not easy. The guidance and mentorship of someone who is in a similar situation can make it easier to cope with your disability. Whether you've experienced an impairment since birth or are navigating new challenges, find a friend at STRIVE4You!
Let's Talk
We work to develop communication and advocacy skills for youth. This service helps bridge the gap for those who struggle with communication or interaction with others. Let's talk and explore techniques that work for you.