Adaptive Recreation Inspiring Success & Empowerment
The ARISE program from STRIVE4You was created to provide fun, innovative, and
informative opportunities for educating our community and encouraging people with low vision to engage in active lifestyles. These opportunities directly address the
challenges of including people with low vision in recreational activities,
competitive sports, and physical education classes alongside their peers. Our team at
STRIVE4You believe that bodies in motion stay in motion. Too often people with low vision are excluded from participation in their favorite activities; we seek to mitigate
this by constructing a more inclusive, level playing field for everyone through education and adaptation.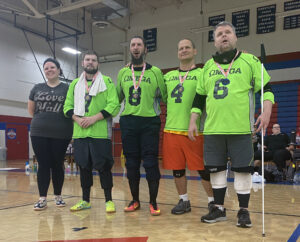 Adaptive sports are competitive or recreational sports for people with disabilities. People with disabilities may play different versions of traditional sports with modifications. Our adapted sports focus on the modifications necessary for the participation of people with low vision.
This approach places people with visual challenges on an even platform with their able-bodied peers. Although a variety of organizations provide adaptive sports, most are limited in scope. ARISE is unique in that it provides multiple options onsite at the requested location. We emphasize educating professionals on adapting physical recreation to meet the needs of individuals with visual impairments in their communities to encourage a more inclusive society for all.
Services
Introduction to Adaptive Sports Webinars
These 90-minute webinars explore the recreational and competitive options available to people with low vision while teaching techniques for adapting everyday activities.
During these informative and interactive sessions, our ARISE team shares resources, equipment needs, and tips and tricks for including those with low vision in existing programs. Both people with low vision and professionals within the recreational sports fields can gain valuable information from our webinars. Additionally, participation is eligible for ACVREP continuing education (CE) hours. Register here!
Adaptive Sports Days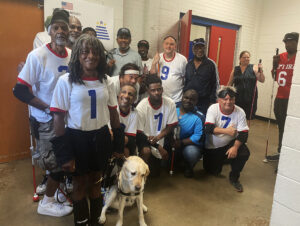 An Adaptive Sports Day is a half- or full-day event cohosted by a local community parks and recreation department, a college, or an advocacy group wanting to increase low vision awareness in their community. These events function like miniature conferences that feature breakout sessions for hands-on adapted recreational activities and topics related to low vision mindfulness.
STRIVE4You provides the equipment and a full team of presenters to facilitate the activities. These Adaptive Sports Days serve to foster an inclusive environment and educate attendees on the exceptional abilities of each unique citizen.
All STRIVE4You team members have passed an extensive background check and are experienced in their adaptive sessions. Our webinars and Adaptive Sports Days are effective ways to raise adaptive sports and recreational interest in a community. Learn more here!
Physical Education with a Twist
Our hands-on workshops provide students the opportunity to expand their horizons by participating in an adapted sport through the lens of a person with low vision. This unique teaching approach exposes students to engaging with people with low vision by allowing them to experience playing the sports they know and love with an adapted twist.
Whether or not there is a student with low vision within the school, this method increases knowledge regarding physical fitness, disability awareness, including proper interaction with others, anti-bullying, and fosters a positive outlook toward people from diverse backgrounds. 
Some STRIVE4You team members even utilize service animals during their presentations, adding to the excitement of the learning experience. These workshops are designed for all K-12 students and allow educators to learn how to properly incorporate students with low vision into their curriculum.
STRIVE4You assembles a diverse team of two to four presenters to facilitate physical education classes for a half or full day. One predetermined activity/sport is presented during each class period. All necessary equipment and supplies to conduct the requested activities are provided. Our team modifies the activity to meet the class schedule and needs. Learn more!
Professional Development Workshops
These workshops are designed to teach professionals how to adapt recreational and sports activities for individuals with low vision. They are a full day of training (six hours) with a portion of the time spent participating in simulation training and learning in an interactive classroom. 
After completion, participants will be familiar with the different types of adaptive sports equipment and receive resource handouts such as the STRIVE4You ARISE Access to Inclusion Training Manual. Learn more…
One-On-One Consulting
STRIVE4You assists parents, physical education teachers, community-based program directors, coaches, and other individuals to implement adaptive recreational or sports activities.
We provide consultation on the latest, best practices, different types of adaptations to popular sports and recreational activities, and cost-effective resources to meet the individual's needs. Learn more!
Annual Striver Retreat
This one-day experience combines all STRIVE4You programs and services into a single illustrious event. Held for more than 10 consecutive years, National STRIVER Day features interactive and informative breakout sessions with both low-vision and sighted professional athletes as well as adapted sports and activities.
Our annual conference was designed to encourage attendees to continuously seek healthier lifestyles and regain their independence through recreation and sports, safety education and self-defense, and self-advocacy.
Previous sessions have included: tandem cycling, bowling, archery, goalball,
guided running and walking, safety education and self-defense, ballroom dancing, exercise and fitness classes, water aerobics, and nutrition classes. Nonathletic presentations spanning supplementary disability-related topics and resources are additionally offered.
This event is ideal for people with low vision, physical education teachers, teachers certified in the area of visual impairments (TVIs), physical therapists, occupational therapists, vocational rehabilitation professionals, and students interested in pursuing these fields, but is open to every member of the community.
National STRIVER Day is recognized by the Paralympic Sports Club Committee as a featured Paralympic experience. Professionals can also receive ACVREP CE hours by attending.
Ongoing Activities and Tournaments
STRIVE4You collaborates with community partners to sponsor ongoing sports and
recreational opportunities for people with low vision within central Tennessee. Whether you are seeking leisurely activity such as a walk, run, or bike ride, or want to experience something new like adapted rock climbing, we can help you find a program suited to your needs and interests.
We offer programs sponsored and facilitated internally by STRIVE4You and coordinate with other agencies within our community to identify the resources and recreation which best support your journey toward physical wellness.
STRIVE4You also organizes a host of annual adaptive sports tournaments held in Nashville. Low-vision athletes from across the country join us every year to compete in these contests. Some of our most anticipated events include the Star-Spangled Goalball Tournament, Bowling Bonanza, and Southern Classic Beep Kickball Tournament.
Many of our events are eligible for CEU credits, so be sure to inquire if interested!
Calendar of Events
Sep 15 2023
– Oct 15 2023
Address: 8081 Arco Corporate Drive, Suite 120, Raleigh NC 27617
No event found!
Program Director
Lucy Mallahan
Contact us at:
Email: arise.director@strive4you.org
Phone: 866-407-8748 Extension 700